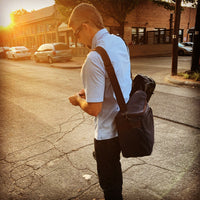 Why My Mutebag?
Stop grabbing plastic grocery bags or backpacks that offer no protection for your expensive mutes and gear! 
Choose style and function when you use My Mutebag for your trumpet, trombone, or bass trombone mutes. 
Reviews
Nate Zgonc, Atlanta Symphony principal trombone
Thanks for the great service and fast shipping! I already had a chance to use my trombone bag tonight. I love it! I will pass the word out to my fellow musicians. It's far better than my old bag which I'll probably throw out!

Glenn R.
Love My Mutebag. I literally use it everyday. 

Joe Dubas, Ft. Worth Symphony principal trombone
This is a badass bag that I use for WAY more than mutes! My looper, mixer, wireless mic, all my cable, two iPads, and yes, even a mute. 

Christopher Bill, trombone celebrity
Dope!   Contents: MacBook, iPad, bucket, cup, Harmon, soulo mute, pixie, 2 plunger mutes, too many mouthpieces, stand lights, spray bottles etc. Love it! Thanks My Mutebag!

Matthew E.
In love with My Mutebag. I can fit my mutes, tripod, snacks, and practice journal.

Armida Rivera, Bach trumpet artist